This Page Contains Information about our Shop Curtains, Strip Doors, Welding Screens, and Welding Blankets.

Now workers painting, sanding, or washing can work virtually side-by-side with people needing a clean environment.
Adjust-A-Wall consists of a sturdy 16-gauge track system, durable yet smooth rolling nylon rollers and a heavy duty vinyl curtain.
The curtain features a 52" high clear vinyl center section that starts 30" up from the bottom. the top and bottom sections are 14 oz. vinyl coated polyester which is available in many colors to choose from. Curtains are supplied with hook & loop closures to provide seamless connections and easy access to enclosed areas. sewn with weighted hem chain at the bottom. standard hardware is supplied for suspending the system from overhead. systems are normally suspended by chain.
Hardware is available for your choice of suspended mount, flush to ceiling mount, wall mount, floor mount or any combination of all 4.
Features:
| | |
| --- | --- |
| | Provides protection or partitioning when needed, rolls easily out of the way |
| | Dramatically increases usable workspace at a fraction of the cost of permanent structures |
| | Used to create welding booths and multi-bay workstations, partition warehouses and shops, reduce drafts and conserve energy |
| | Choose from modular sections or design your own custom partition |
See Available Partition Types Design Your Custom Partition See Shop Curtain Photos
A must for your body shop!
Protects interiors, glass and other areas from damage caused by nearby welding and grinding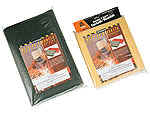 Features

:
| | |
| --- | --- |
| | Widely used as blankets for protecting materials and equipment in welding areas from sparks and molten spatter |
| | Grommeted on approximate 24 in. centers on all sides for use as protective curtains |
| | No grommets on silica cloth or velvet shield, actual sizes may vary up to 3 in. in width and height |


Portable screens provide protection from sparks or UV rays, wherever you need it.
The frame consists of strong yet lightweight square steel tube design that will not slip or twist like round tube frames. Slip fit construction permits fast and easy assembly without tools. Screens are available in your choice of several materials.
Features

:
| | |
| --- | --- |
| | Designed for durability, portability, and flexibility |
| | Sturdy 18-guage steel, square tube frame design eliminates the slipping and twisting of round tube screens |
| | Supplied with sturdy platform legs, casters also available |
| | Choose from a wide range of materials and connectors to design enclosures to suit your needs |
See Accessories See Available materials See More Information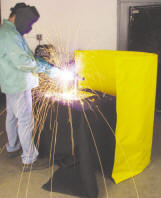 Quick, easy set-up and take down. No hardware to install. No tools necessary.
Roll open and stand on horizontal end for use as welding, grinding or safety shield.
Roll up and carry away.
Features

:
| | |
| --- | --- |
| | Lightweight, flexible inner core wire mesh permits the Port-O-Screen to stand alone. Built-in tie strap and carrying handle. |
Available in:
| | |
| --- | --- |
| | 14 oz Safety Yellow Vinyl Laminate provides resistance to flame—NFPA-701 certified. |
| | 12 oz. Olive Drab Cotton Duck is a permanently treated cotton to repel water and resist mildew. CPAI-84 approved for flame resistance. |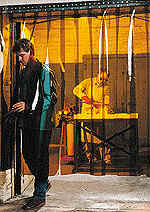 Heavy duty PVC strip has excellent optical clarity. Permits good visibility through the doorway or curtain.
Strip Doors are supplied with universal mount hardware for easy installation to horizontal or vertical surfaces.
Features:
| | |
| --- | --- |
| | For welding or warehouse applications, strip curtains and doors promote safety and reduce energy costs |
| | Choose from a variety of configurations, or select a standard prepackaged unit |
| | Mounting hardware and replacement strips also available |
Browsing our Store for Information not enough for you? Want something more permanent?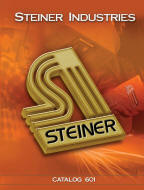 You can also download a (24.3MB)

file of the entire catalog.
If you download any of our catalog pages, you'll need Adobe Acrobat Reader to view them. If you don't have it already, get it here for free.

Call today!
847-838-6666
E-Mail - Sales-Info@Protools.ws
Mail - 23529 Eagle's Nest Road, Antioch, Illinois 60002
• Home •
• What's New • Paint Booths • Prep Stations • Paint Mix Rooms • Air Make-up Systems • Air Filters • Shop Curtains • Welding Systems • Welding Blankets • Frame Benches • Floor Anchors • Pulling Accessories • Super Seal Roll Door •

This page last updated on Thursday, August 04, 2022 08:14 AM.