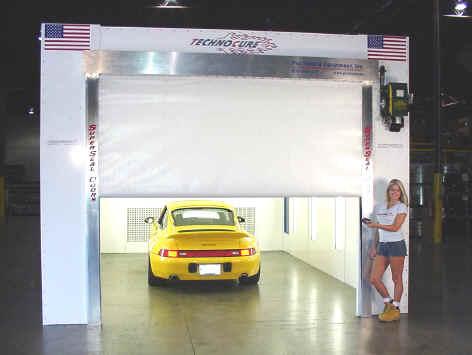 A Technocure Innovation First:
Technocure is first to introduce its Super Seal Roll Door to the Spray Booth Industry. As a standard option or as a retro-fit to an existing booth.
Anatomy Of An Innovation: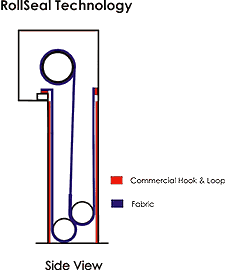 Super Seal Roll Doors are constructed of our unique design, which provides outstanding seals against weather, temperature and air infiltration.
The patented sealing system technology, is shown in the diagram at the right. As the door closes, three plies of fabric are rolled into place on the inner and outer sides of the door track, and positively sealed with commercial hook and loop. Two dead air spaces exist between the three plies of material, forming an insulation value far superior to single ply doors. This technology, with the double seal on each side, is capable of withstanding high wind loads and pressurization requirements, and provides the ability to build large, wide doors.
Super Seal Roll Door consists of a header section with left and right tracks made of aluminum and a door that is made of a tough fire resistant reinforced polymer fabric material that is anti-static. When closed it is three layers thick from the inside to the outside and sealed better than any metal hinged door. The opening and closing of this door is accomplished with the push of a button via the heavy duty jackshaft Manaras Opera Operator. The included standard 3-button push button station can be mounted anywhere, the Super Seal Roll Door can also be operated from the included wireless radio remote control witch can be carried on the belt of the person using the booth.
All this on a Spray Booth that is thousands less in cost then the competition.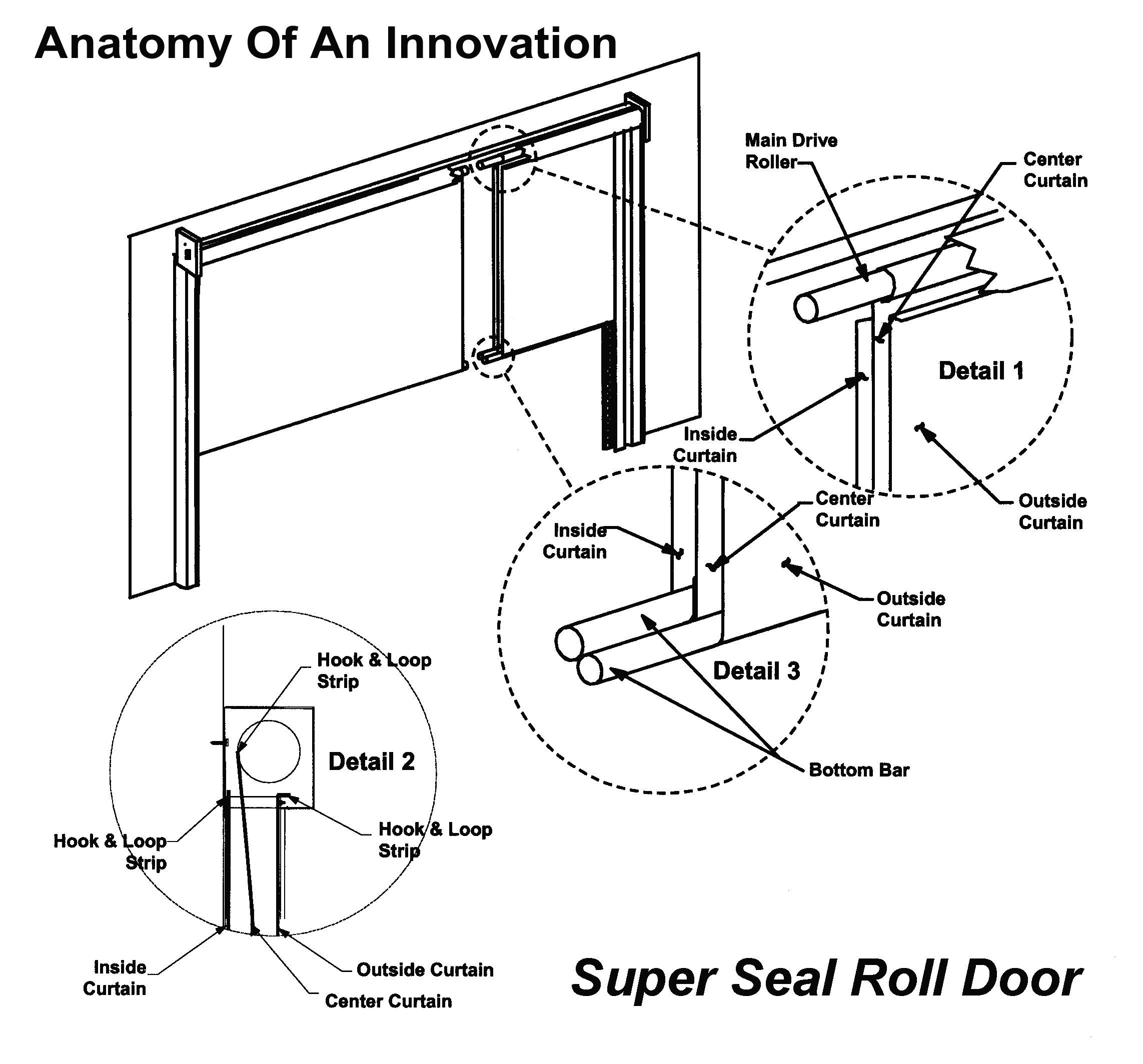 | | |
| --- | --- |
| Door Remote | |
| 3 Button Station | |
Safe, Simple, Durable and "The Best Seal on the Market"
Super Seal Roll Doors are available with a range of operators, from low cost, manual chain hoist to high speed motorization up to 42 in./sec.
Super Seal Roll Doors are constructed of aluminum tracks and header.
Super Seal Roll Doors are available in three models to address the different application, speed, size, and cost requirements.
Features
| | |
| --- | --- |
| | Quiet, neat, lightweight and compact |
| | Range of operators from manual to high speed |
| | Aluminum construction |
| | Heavy duty, long lasting fabrics |
| | Long life commercial hook and loop |
| | Outstanding seal against weather, air infiltration |
| | Withstands spray booth pressurization requirements |
| | Multiple fabric options |
| | Available in several materials, fabrics, speeds, and accessories, in sizes up to 30 ft. wide by 20 ft. high |
| | Left or Right Hand Drives |

Please take some time to view the Super Seal Roll Door Photo Gallery for Standard and Retro-Fit installations in customers shops.
Click here to view Super Seal Roll Door Photos

Need A Super Seal Roll Door for an application other than a Spray Booth. See the models below.
The Model 600 door is the first of many advanced technology doors to be offered by Technocure, featuring state-of-the-art technology in all aspects of the door construction, from the electro-mechanical technology to the patented three-ply, double seal panel.
The motor is a right angle gear motor, featuring a die cast aluminum frame for maximum corrosion resistance and hypoid helical gearbox for maximum torque and efficiency. Built into the motor is a capability to manually open or close the door in case of power outage, without the complexity of chain drives or pulley systems.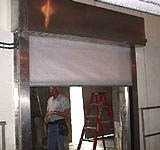 The motor is driven by an AC variable speed drive, which takes in readily available single phase power and converts it to three phase, at any frequency up to 120 hz. The drive uses microprocessor technologies to provide a simple, efficient, and powerful drive.
The position of the door is constantly monitored by an electronic encoder. This information is used to alert the door controller that the door is approaching the UP or DOWN limit, allowing the soft stop function to be engaged. The encoder is key to the elimination of conventional limit switches, which are responsible for a significant number of failures in most automated doors.

The SMART 50 door controller is a state-of-the-art door controller, based on the latest microprocessor technology. It is the heart and brain of the door system, monitoring inputs from the encoder, switches, remotes, motion detectors, etc., and interfacing to the AC drive. The microprocessor allows a tremendous level of function to be accomplished in a very small space and at a cost effective price, while providing the flexibility of software control.
These technologies, providing for soft start/stop, different UP and DOWN speeds, allows for a level of function, reliability and safety unachievable in conventional door systems.
Model 600 Features
| | |
| --- | --- |
| | High speed operation: up to 42" per second |
| | Soft start/stop; to eliminate mechanical shock and greatly increase reliability |
| | Speed options: fast up, slow down, for safety |
| | Hypoid Helical Gearbox |
| | Two positive seals to prevent air infiltration |
| | Excellent insulation, R-Value from 5 to 6 |
| | Programmable UP, DOWN limits and speed from controller |
| | Electronic encoder |
| | Aluminum construction, no corrosion |
| | Corrosion-free, energy efficient, 3-phase gear motor |
| | Standard safety beam |
| | Fabric and color options |
| | Programmed closures: manual or time delay |
| | Standard cycle counter |
| | Manual override: release brake, crank door up or down |

The Model 400/450 is the large door series, with widths from 12 feet to 30 feet, and heights up to 20 feet. Three operator options are available; manual chain hoist, Phoenix intermittent duty operator, and Manaras Opera continuous duty operator. Deep tracks with four inches of commercial hook / loop, allows the Model 400/450 door to withstand very high wind loads without losing its great seal.
Typical applications are: large commercial and industrial doors, large dock doors, large freezer and cooler doors, doors for large paint booths and double bay prep stations, doors for fabric structures, and doors for agricultural and horticultural applications.


Model 400/450 Features
Patented seal system, 3 plies fabric, double seal with dead air space
Three Operator Options
- Manual Chain Hoist
- Phoenix, totally enclosed box motor operator, with manual override in case of power loss
- Manaras Opera continuous duty operator, with chain hoist override in case of power loss
Left or Right Drive option
Fabric options
Activation options

A unique affordable choice for applications where light to medium use and low cost are requirements. The patented sealing system provides excellent wind load resistance.
Model 300 installation is simple. Attach side tracks to header, stand door unit up to door frame, bolt in place.
Typical applications are: coolers/freezers, docks/warehouses, environmental control, pharmaceutical, paint booths, agricultural/horticultural.


Model 300 Features
Sizes up to 13 ft. wide by 14 ft. high
Aluminum tracks and covers
Patented seal system, 3 piles fabric, double seal with air space for insulation
Three Operators to choose from:
- Manual Chain Hoist Operator
- Tube Motor Operator, for applications requiring less than 10 opening cycles/day, 3 in/sec opening speed
- Manaras Opera Continuous Duty Operator, 12 in/sec opening speed, Manual backup
Fabric options
Additional switches, opening devices
Remote transmitter/receiver


Downloads:

Manaras Opera H/J Manual 2.2MB


Manaras Opera Spec Sheet 128KB


Manaras Opera Arch Spec Sheet 128KB
You'll need Adobe Acrobat Reader to view it. If you don't have it already, get it here for free.


Information on a specific product? Go to the Request Form.

Technical problems? Contact the Webmaster about this page.

This page last updated on Thursday, August 04, 2022 08:14 AM .