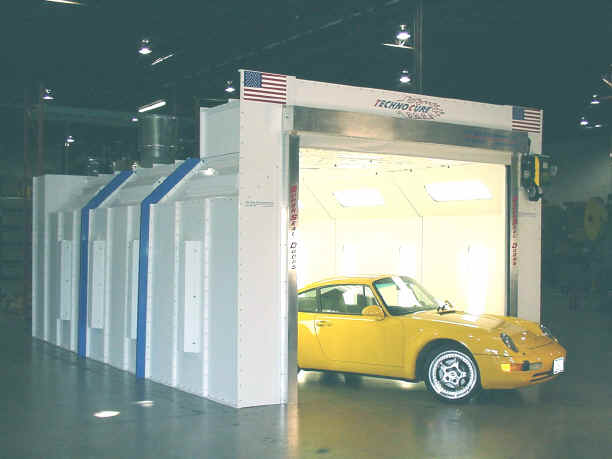 The Technocure Semi Down Draft is our most popular booth in both the heated (with an Air Make-up Unit) & unheated versions. One of the reasons is that the booth requires no concrete work or pits. This is a substantial savings in the installation cost. Another reason is that the heater (AMU) can be added at a later date.
If you are leasing your current building and may be moving in the future or building management won't let you cut the floor for pits.
Then this is the booth for you!
Semi Down Draft with Air Make-up Unit

| | |
| --- | --- |
| | |
Semi Down Draft without Air Make-up Unit

| | |
| --- | --- |
| | |
How The Technocure Semi Down Draft Works:
The Technocure Semi Down Draft is the ideal booth where an in-floor pit is not practical. The exhaust is located at the end of the booth in the discharge filter section. The fresh air is forced in from outside via the Air-Make-Up unit (AMU). The temperature of the air is electronically controlled with the aid of the Spray-Cure Control Panel. The warm air moves evenly around the vehicle and immediately into the exhaust system. Forced air throughout the booth keeps a clean environment for ultra clean paint jobs. After the completion of spray painting, simply switch the control panel to "BAKE" mode and set your bake timer. The Spray-Cure Heater now takes the booth to high bake temperatures as recommended by the paint manufacturers, while the exhaust fan on the booth shuts off to slow down the air flow to keep the heat in the booth cabin longer. The Technocure Semi Down Draft can also be used with out the Air-Make-Up unit (AMU). This booth is easily converted for the Air-Make-Up unit (AMU) at a later date.
Specifications:
Booth Shell
25' 4" long x 14' 8" wide x 11' 2" high O.D. prefabricated 18 gauge galvanized steel panels with 10ga. structural angle used as reinforcement. Pre punched nut & bolt construction with floor channels to secure the booth to the floor. (Larger or custom sizes are available).
Entrance Doors
10' wide x 9' high Super Seal Roll Door with Electric Door Motor & Remote Control.
or
Standard 9' 4" wide x 8' 10 ½" high door fabricated with tube steel frames hung on structural channel jambs and skinned with 18 gauge galvanized steel with tempered glass windows secured with a Brixon™ latch.
Personnel Door
30" wide x 84" high personnel access door with tempered glass window, pre-hung in heavy gauge galvanized steel frame for easy installation and secured with a Brixon™ latch. (Additional doors can be added as space allows).
Lighting
Bright full booth illumination is provided by 16, four tube, 48"-32 watt T8 fluorescent light fixtures by LDPI, Incorporated in the ceiling panels, angled ceiling panels and side walls. Each is sealed behind clear tempered safety glass. All fixtures are UL listed and approved for their intended use and placement. The light tubes are not furnished with the fixtures. (Additional fixtures can be added as space allows).
Need help on lighting decisions? this article will help: "The right light?"
Filtration System
Intake side:
20" x 20" AFR-1 Airflow Technology filters are located in the plenum box (no filters in plenum box if using an Air Make-Up Unit).
3 Swing Down Filter Racks with Filtrair FF-560 GX™ Diffusion Media Blanket Filters are located on the ceiling of the spray booth.
Exhaust side:
Andreae pleated filter with 99.6% efficiency (on the back wall). All filters can be replaced simply.
Fan
One 24 inch, precision balanced with spark resistant aluminum fan blades that can deliver up to 8,250 cu. ft. per minute each @ .5" Static Pressure, with low operating noise level.
Fan Motor
One 2hp 208-230/480 volt, 3 phase, high efficiency, totally enclosed fan cooled (TEFC). (optional single phase available).
Finish
"Porcelain like" Polyurethane and Polyester Premium White Powder Coating.
Air-Make-Up Unit
Direct gas-fired Spray-Cure heater, 100% thermally efficient @ 1.5 mbtu. Enclosed in a weatherized cabinet of heavy duty, corrosion-resistant galvanized steel. Solid-state Maxitrol modulating temperature control with direct-spark ignition for fuel savings. Choice of controls including the Super-Cure™ accelerated cure feature for painting and baking. ASA Certified & UL, ETL, CSA, AGA listed.
Options:
Add additional light fixtures.

Add an additional personnel door.

Add/delete View Windows in the personnel, entrance/ drive-through doors or walls, great for classroom environments. Not available in Super Seal Roll Door.

Air-Make-Up Unit: Direct fired, natural gas or propane 1.5 million BTU heater with choice of control panel for painting and baking.

Drive-through or Tri-fold doors

Galvanized only (no white powder coating)

Exhaust stacking with roof flashing.

Size/Configuration Modification.
Spray Booths comply with all NEC, OSHA and NFPA regulations.
All hardware, filters and sealants needed for installation are included. Some electrical components are to be supplied by others.
Please take some time to view photos of these booths installed in customers shops.
Click here to view the Semi Down Draft Photo Gallery
---
Information on a specific product? Go to the Request Form.
---
Technical problems? Contact the Webmaster about this page.
---
This page last updated on Tuesday, December 15, 2020 01:10 AM .