TECHNODRY
Waterborne Coatings Drying System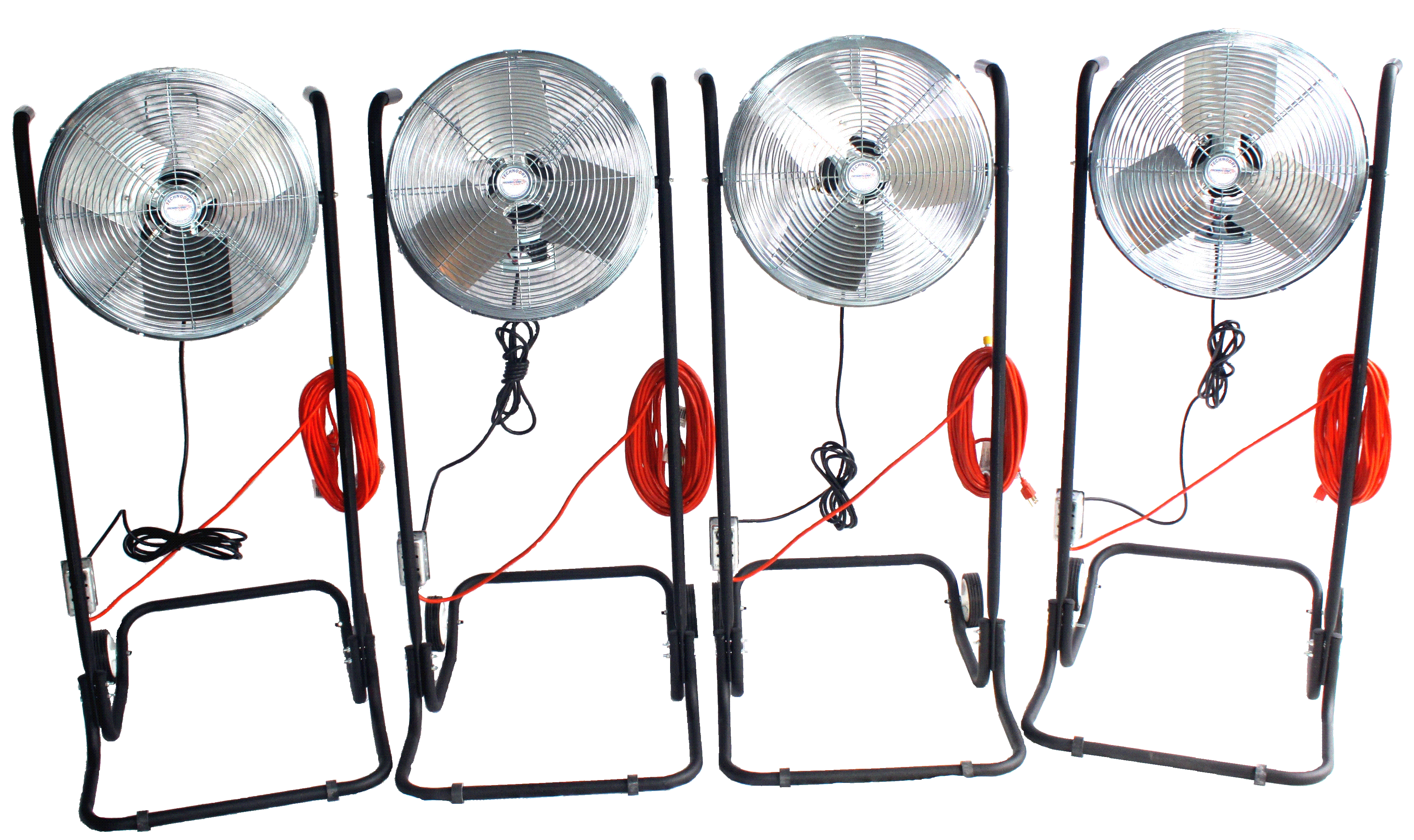 Are you stuck on the bridge over troubled Waterborne? Coatings that is, paint. The technology is getting better everyday. Soon it will be in your shop. Are you worried? have you heard the horror stories of converting? Afraid of not being ready? Worry no more!
Well we've done it again! Introducing TECHNODRY. All you will ever need for your Waterborne drying needs.
Employing the K.I.S.S.* principal to this latest innovation. TECHNODRY will dry all your waterborne coatings for far less money than other systems.
| | |
| --- | --- |
| | Why wear out your compressor and use more energy with venturi or air motor dryers? As well as pump contaminates into your booth. |
| | Why Spend $10,000 or more on built-in dryer systems? |
TECHNODRY is:
| | |
| --- | --- |
| | Fast - Cuts dry time by half & cuts cycle time by 35% |
| | Easy - Portable units move easily in, out and around your booth |
| | Inexpensive - No booth modifications needed |
| | Efficient - Cuts energy costs by half |
All the Waterborne drying problems solved without needing a loan from your bank!
This 4 Unit system dries Waterborne Coatings for pennies on the dollar!
Ideal for any brand or style of booth, Big or small, old or new, complex or simple. TECHNODRY will get the job done!
TECHNOCURE Makes It Easy To Be Green
Features:
| | |
| --- | --- |
| | UL Listed 120 volt single phase Totally Enclosed Industrial Motor for cleanliness & safety, with permanently lubricated bearings for long life. |
| | Big 18 Inch Non Sparking Aluminum Fan Blades optimally pitched for Waterborne Drying connected to a Steel Fan Hub for years of service. |
| | Fan Head Tilts 360° so you can direct the air where you need it most. |
| | Coated Steel Fan Guard removes for easy cleaning of blades & guard, Fan Hub also removes for even easer cleaning. |
| | 3 Speed Control Panel gives you total control over air movement. The Low setting moves 3,200 Cubic Feet per Minute. Medium setting is 4,700 C.F.M. and the High Setting is 5,750 C.F.M.. Now that's some air movement! All 4 units combined gives you 23,000 C.F.M. |
| | Whisper Quiet. The optimally pitched blades make less noise than other systems that deliver half the C.F.Ms |
| | Energy Efficient Motor uses only 2.2 amps on High. So plugging in all 4 units on one 15 amp circuit is not a problem. |
| | Long 50 Foot Industrial Cord with 3 Prong Grounded Plug lets you connect the units to your shops existing electrical outlets. |
| | Built-In Cord Keeper holds the cord in place when moving these units around. Cord won't fall off! even when tilted on its back. |
| | Tall 53 Inch High Stand puts the fan high off the floor to keep dust down and direct air where you need it. |
| | Heavy Duty Steel Tubing Frame with Durable Black Industrial Wrinkle Finish Powder Coat will protect the frame for years of handling. |
| | Large Wheels make these portable units easy to move and easily rolls over floor grating & air hoses. |
| | Two Heavy Duty Rubber Feet on the front, keeps the unit in place while in operation and dampens any possible vibration. |
| | Base is the most stable in the industry. Won't fall over due to uneven floors. Excellent performance even on metal grated floors. |
| | One Year Limited Warranty. |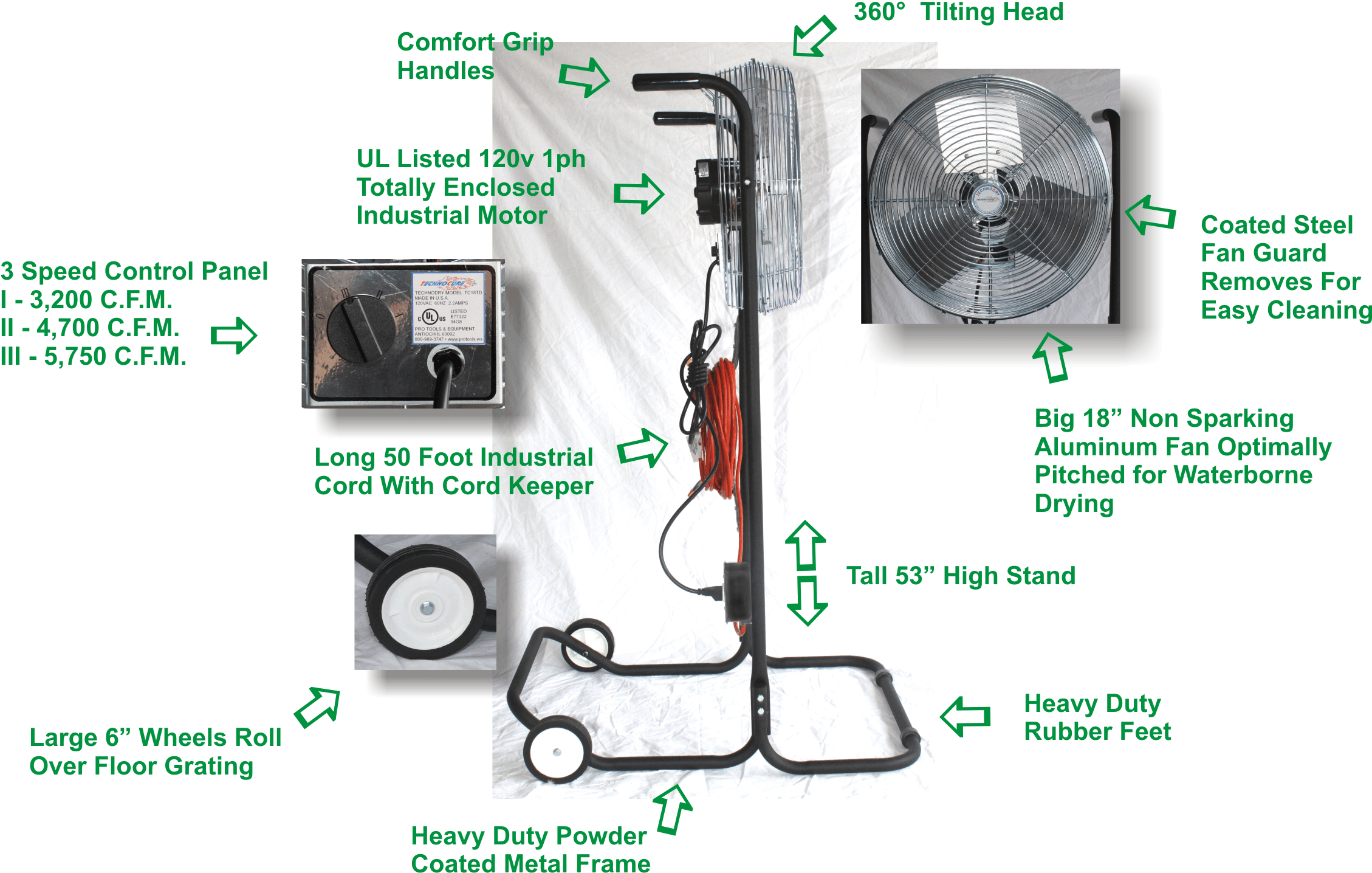 Standards:
TECHNODRY is built to:

Conforms to OSHA Standards

Underwriters Laboratory UL LISTED# E77322 94G8
Click here to view TECHNODRY Printed Information
Click here to view the TECHNODRY Photo Gallery
* Keep it simple stupid! (you looked didn't you)
• Home •
• What's New • Paint Booths • Prep Stations • Paint Mix Rooms • Air Make-up Systems • Air Filters • Shop Curtains • Welding Blankets • Frame Benches • Floor Anchors • Pulling Accessories • Super Seal Roll Door •

This page last updated on Thursday, August 04, 2022 08:14 AM .