Your Equipment Arrives!
On a shipping company's semi-truck, direct from the factory to your shop.
All that you need to unload your new Booth or AMU is a Forklift capable of lifting 3,000 pounds, raising 10 feet in height & forks 4 feet long. in other words a common warehouse forklift (see below).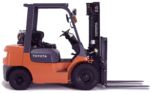 (Click On Any Photo To Enlarge)
• Home •
What's New • Paint Booths • Prep Stations • Paint Mix Rooms • Air Make-up Systems • Air Filters • Shop Curtains • Welding Blankets • Frame Benches • Floor Anchors • Pulling Accessories • Super Seal Roll Door •
---
Information on a specific product? Go to the Request Form.
---
Technical problems? Contact the Webmaster about this page.
---
This page last updated on Tuesday, December 15, 2020 01:10 AM .