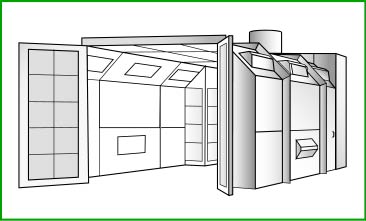 How The Technocure Cross Draft Works:
The Technocure Cross Draft is an ideal booth where a cross flow application is required. The exhaust filters are located at the end of the booth in the discharge filter section. The fresh air is brought in from outside, through intake filters located in the doors and door side panels. The air then travels evenly around the car towards the rear exhaust system, there it is filtered before exhausting out. This type of spray booth makes efficient use of shop space and is available in solid back, drive-through, and reverse flow designs. Reverse flow booths intake air through filters in the back wall. The solid faced entrance doors are at the exhaust end of the booth. This provides cleaner intake filtering and better control of shop dust that might be tracked in at the vehicle entrance.
Specifications:
Booth Shell
24' 4" long x 15' wide x 10' high O.D. prefabricated 18 gauge galvanized steel panels. Pre punched nut & bolt construction with floor channels to secure the booth to the floor. (Larger or custom sizes are available).
Entrance Doors
Standard 9' 4" wide x 8' 10 ½" high door fabricated with tube steel frames hung on structural channel jambs and skinned with 18 gauge galvanized steel and secured with a Brixon™ latch.
or
10' wide x 9' high Super Seal Roll Door with Electric Door Motor & Remote Control. (Available Only on Drive-through or Reverse Flow models).
Personnel Door
30" wide x 84" high personnel access doors are pre-hung in heavy gauge galvanized steel frames for easy installation. Brixon™ latches are provided for each door opening. (An additional door can be added as space allows).
Lighting
Bright full booth illumination is provided by 10, four tube, 48"-32 watt T8 fluorescent light fixtures by LDPI, Incorporated in the ceiling panels, angled ceiling panels and side walls. Each is sealed behind clear tempered safety glass. All fixtures are UL listed and approved for their intended use and placement. The light tubes are not furnished with the fixtures. (Additional fixtures can be added as space allows).
Filtration System
Intake side:
20" x 20" Tacky Poly filters are located on the Entrance Door of the spray booth. (or on the back wall for Reverse Flow Models).
Exhaust side:
20" x 20" Heavy Duty Fiberglass exhaust filter pads. All filters can be replaced simply.
Fan
30 inch, precision balanced with spark resistant aluminum fan blades that can deliver up to 12,600 cu. ft. per minute each @ .5" Static Pressure, with low operating noise level.
Fan Motor
3hp 208-230/480 volt, 3 phase, high efficiency, totally enclosed fan cooled (TEFC). (optional single phase available).
Finish
G90 Galvanized
All hardware, filters and sealants needed for installation are included. The control panel and other electrical components are to be supplied by others.
Options:
Add additional light fixtures.

Add an additional personnel door

Add View Windows in the drive-through door, personnel door or walls, great for classroom environments

Drive-through doors.

Exhaust stacking with roof flashing.

Add Powder Coating.

Size/Configuration Modification.
Spray Booths comply with all NEC, OSHA and NFPA regulations.
All hardware, filters and sealants needed for installation are included. The control panel and other electrical components are to be supplied by others.
Please take some time to view photos of these booths installed in customers shops.
Click Here to view Cross Draft Booth Photos
---
Information on a specific product? Go to the Request Form.
---
Technical problems? Contact the Webmaster about this page.
---
This page last updated on Tuesday, December 15, 2020 01:10 AM .